EMERGE EQUIPPED. EMERGE BOLD.
The AIGA national EMERGE initiative's programming model will encourage engagement and conversation through a range of events—including workshops, panel discussions, roundtables, lectures, networking functions, studio tours, and online activities—that address different aspects of the design discipline. These experiences provide newer designers the opportunity to ask questions, seek advice, and participate in career development focused activities, while giving established designers the opportunity to grow as mentors and to support the emerging design community.
AIGA Gainesville wants to encourage our emerging design community to connect with our established design professionals at every opportunity. We have put together a series of events that will help designers learn new skills, develop as leaders, and to connect with their community.
Tuesday, September 25 // World Interaction Design Day
Good Enough: Design Thinking for Accessibility w/ Ben Loeffler from 160over90
Thursday, September 27 // IBM Enterprise Design Thinking
Screening of IBM and InVision's documentary "The Loop" and get started with IBM's Enterprise Design Thinking Platform
Saturday, September 29 // Adobe XD Workshop
Hands-on workshop designing and prototyping your next app with Adobe XD
Wednesday, October 3 // Drinks & Design
Mixing and mingling with local creative professionals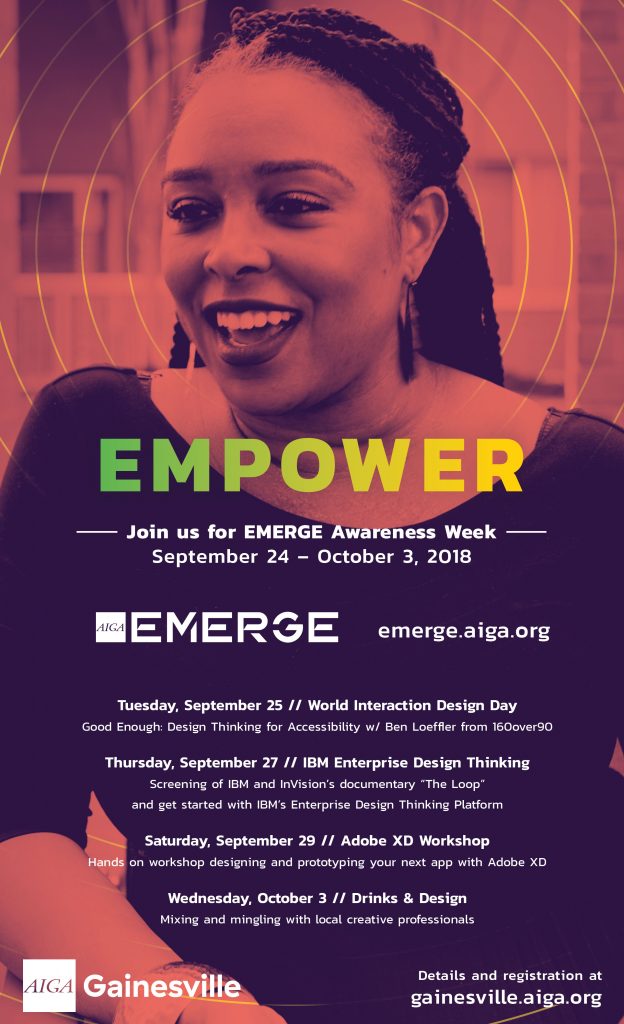 AIGA Gainesville is proud to participate in EMERGE Awareness Week 2018. Follow to keep up with all of the events, stories, and highlights from chapters across the country.